Reservation Policies
Cancellation Policy
No administrative or room charges will be levied if booking request(s) is/are cancelled 2 days (48 Hours) before expected date and time of arrival.
First night room charges will only apply for no show or cancelled within 2 days (48 Hours) from expected date and time of arrival. (Last minute cancellations)
In the event of a no show, first night room charges shall be levied.
Securing Reservation(s)
Please note that valid credit card details and email address are required to secure a reservation.
Credit card processed by paypal secured gateway are all pre-paid bookings.
Other payment options such as fax in or email in credit card details is accepted. Hotel will only charge credit card upon arrival in such cases or in case of no show or last minute cancellations.
Check in / Check out Time
Check In Time: 1400 Hours (onwards)
Check Out Time: 1200 Hours (and before)
Extension of check out time is subjected to room availability and extra charges may be levied.
Child Policy
Child Age: 12 and below.
Aged above 12 considered as Adult.
Max 1 child can share in existing bed with family members. (Child Breakfast not included) - Extra Breakfast can be purchased at reception upon check in.
Hotel encourage to take up optional extra rollaway bed option with breakfast for children.
Parking
Ample Car Park lots are available on site for all Hallmark Hotel Guests.
Pets & Fruits
We regret to inform that pets are not permitted into the Hotel.
We regret to inform that fruits are not permitted into the Hotel.
All your Credit Card details are handled securely by eGHL as our Hotel appointed payment gateway. See the booking process below :
| | | |
| --- | --- | --- |
| Step 1 | : | Select to pay by credit or debit card / other payment methods. |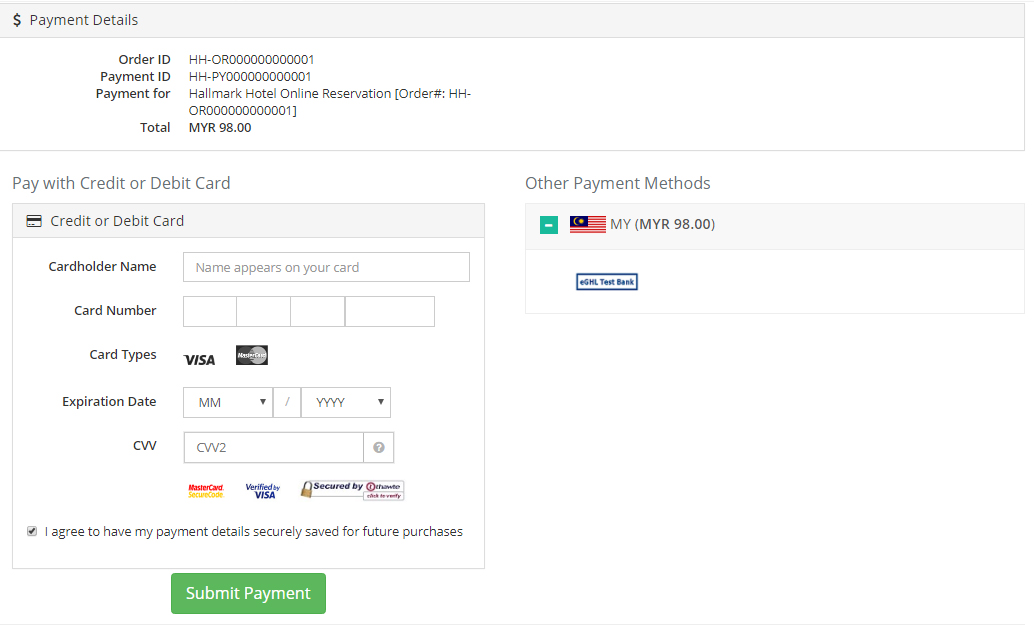 | | | |
| --- | --- | --- |
| Step 3 | : | Finish and complete booking. You will receive a booking notification in your email inbox with all booking details captured with a booking number. |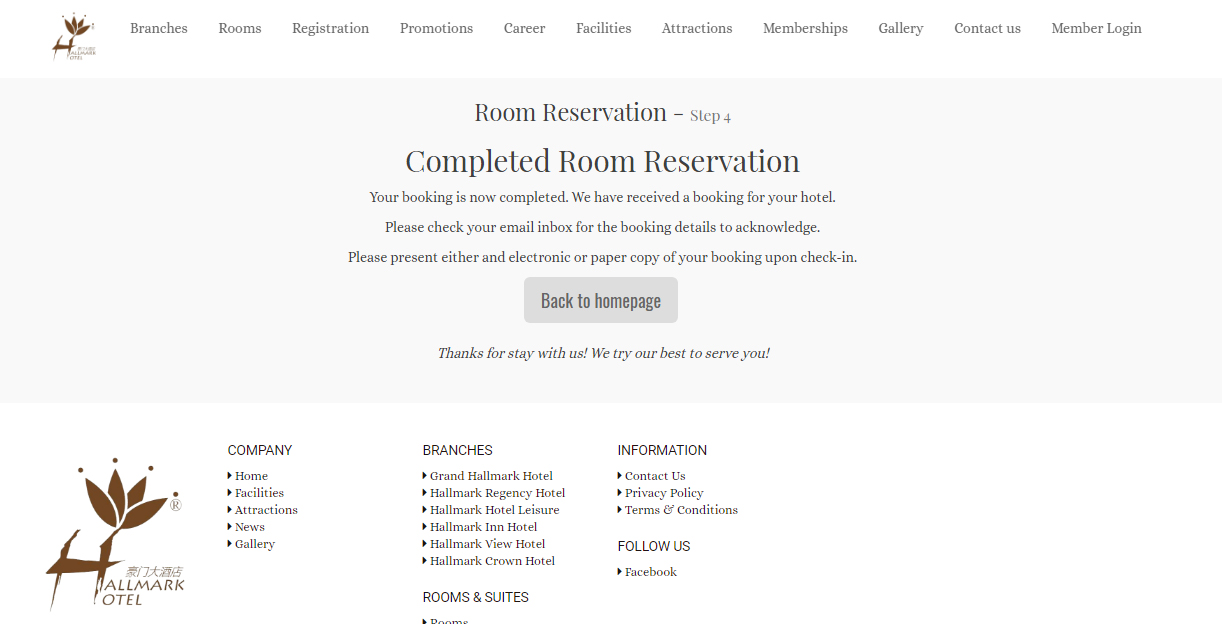 Our hotel do accept alternative payment methods such as TT, Bank In, email, fax or phone booking. If you have difficulty with your booking, please feel free to reach us at the below contact information for reservations. We will respond within 1 working day.
Hallmark Hotel Leisure (Malacca)
Hallmark Inn Hotel (Malacca)
Hallmark View Hotel (Malacca)
Grand Hallmark Hotel (Johor Bahru)
Hallmark Crown Hotel (Malacca)
Hallmark Regency Hotel (Johor Bahru)